Check-in here to see the MRV commentary on what we have seen and are seeing in the dairy market.  These insights have been developed from MRV's proprietary data, industry experience, and industry reports referenced below. Here's our latest:
Domestic
This month, commodities are seeing a similar trend to last month with slight variation. Butter has seen a 17 cent increase versus same period last month while its sales have remained neutral. Block cheese, like last month, had a decrease this time of about 11 cents while its sales are up about 12%. Barrel cheese swung the opposite direction with its price actually increasing nearly 6 cents and its sales having a decrease of about 14%.
Output and Market
Year-over-year, the output of most dairy products in September exceeded September of 2022, even though overall milk production slightly slipped. Butter production in September saw an increase of 2.9% versus September 2022, after being below prior year levels in August. However, this seemed all for naught since demand remained resiliently high, which supports its increase in its spot price. However, powder production did not fare so well as we saw a decrease in NDM and SMP of 17.7% and 18.7% respectively, YoY. September saw the third consecutive decline of milk production versus last year at 0.2%, according USDA Milk Production report.
Historically, seasonal price increases usually peak around October due to a surplus of buying for the holidays. Butter prices may jump around with the holidays as the year comes to a close, and the reason cheese prices are not seeing the same increase(s) is partly due to September's Cold Storage report showing inventories up over last year's. This is resulting in cheese buyers being less concerned with over supply as sellers are offering cheese on the spot market to maintain inventories.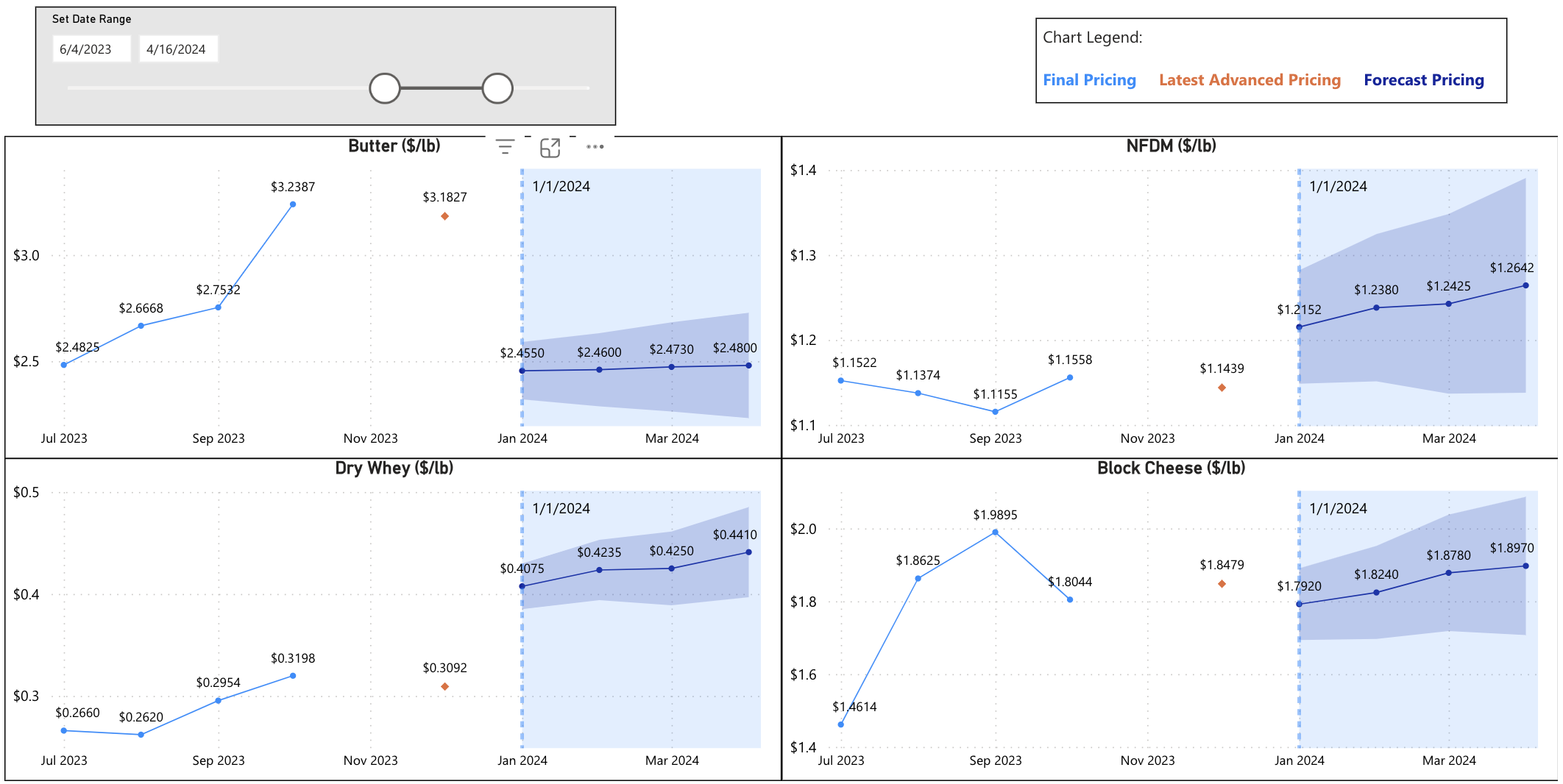 (Graph from MRV Proprietary Data)
Herd and Culling
Culling was especially relevant this summer due to low dairy margins and high beef prices. Within the first 3 quarters of the year, the dairy herd shrunk by 0.3% and we are now seeing this culling rate slow down. This is seen as the first half of October showed a 6% decrease in culling on a historic average for October. This could be partially due to there not being enough heifers to replace the cows sent to slaughter as there was the lowest mid-year tally of heifers on July 1st since 2004. This will result in a bottleneck limiting the rapid growth of the US milk-cow herd in the upcoming year.
Exports
Recently exports have been somewhat dim, and the latest report shows no difference. On a milk solids equivalent (MSE) basis, US export were down 7.5% through the first three quarters compared to prior year levels while its value sunk 15%.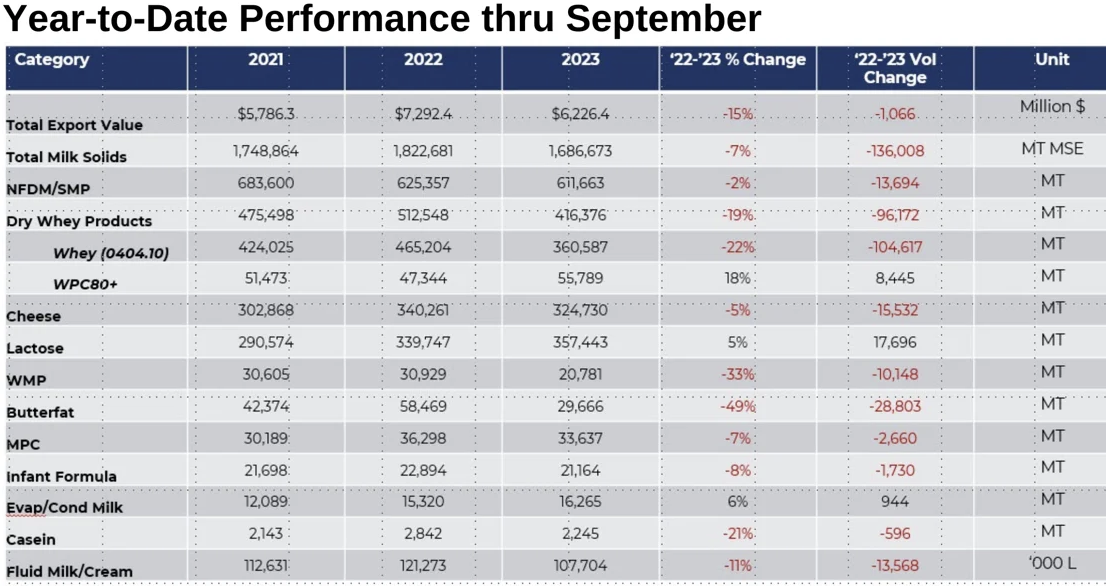 (Graph from USDEC)
Summary
With butter's price increase over the last month MRV forecasts an increase in most products specifically higher fat items. A low heifer count and dairy margins slightly resurfacing, partially due to feed costs going down, could result in a drop in culling for the time being. Cheese prices should remain relatively neutral as the cold storage report shows sufficient volumes to round off the year. Exports are still and have yet to see recent relief due to US' uncompetitive pricing.
This information cited by MRV Marketing, LLC is for informational and reference purposes only. It is not intended to be a conclusive statement of future market conditions. It is not legal advice or legal documents. The data used in these documents contains references to information created and maintained by other organizations or agencies. Please note that MRV Marketing, LLC does not control and cannot guarantee the accuracy of these outside materials.
Statistical data referenced here is gleaned from reports by MRV Proprietary Data, Daily Dairy Report, Dairy Herd Management, USDEC, and USDA.