Check in here to see the MRV commentary on what we have seen and are seeing in the dairy market.  These insights have been developed from MRV's proprietary data, industry experience, and industry reports referenced below. Here's our latest:
Domestic Market
Domestically, commodity prices are slipping. The market is seeing a decrease, month over month, in butter, dry whey, NDM, and block cheese. The only outlier is barrel cheese which only rose marginally. Spot prices on CME for whey have traded at an all-time low of 23.25¢ per pound on June 29. On July 5th, Class III futures also hit all-time lows for August and September in response to poor whey prices and falling cheese prices. This market suggests a weaker demand, a large supply, or both.
Output and Exports
USDA's Dairy Products report showcases another robust month of dairy product production in May. Butter and NDM production blew up, rising 8.1% and 7% respectively. Cheese production remained relatively unchanged in May (YoY), moving down a measly 0.2%. With dairy product output increasing, international buyers are not doing much to help clear these supplies. MSE export volume slips 13% year-over-year in May. Nearly all products fell below last year's level making this (May) the third straight month that US exports have declined. However, with the Class III market deteriorating this early summer, US cheese has become more competitive in the global market. Although declining prices do not look good for producer paychecks, these lower prices could help increase US exports. For consumers in the developing world, the US' more affordable products could hike demand in those areas. This would help clear inventories and prevent prices from dropping any further.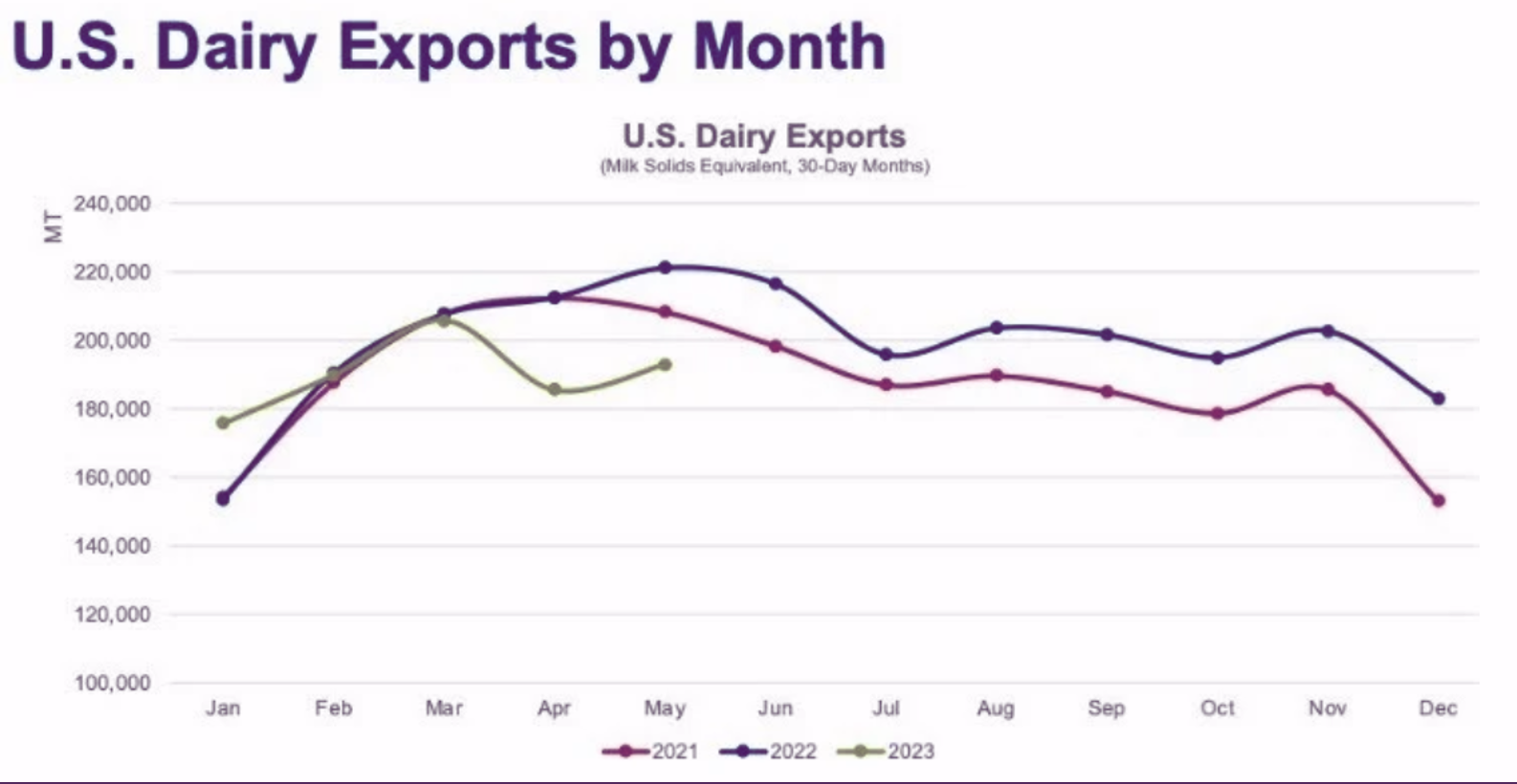 SNAP/Add Milk
US legislators are considering expanding the HFMI (Healthy Fluid Milk Incentives) program to the entire country due to a continual decline in fluid milk sales. There is currently a project called Add Milk which is piloted in six states to increase participants' access to dairy products in SNAP (Supplemental Nutrition Assistance Program). According to the most recent Dietary Guidelines for Americans, about 90% of US citizens are not consuming enough milk or dairy products. Although the Add Milk program will most likely not change the trend in milk sales, it will provide a more nutrient-dense calorie base, in the form of dairy products, to people in need and increase overall dairy sales.
MRV forecasts another decrease in dairy prices in August before steadily rising over the next few months.
Statistical data referenced here gleaned from reports by MRV Proprietary Database, USDA, Daily Dairy Report, USDEC, Dairy Herd Management
This information cited by MRV Marketing, LLC is for informational and reference purposes only. It is not intended to be a conclusive statement of future market conditions. It is not legal advice or legal documents. The data used in these documents contains references to information created and maintained by other organizations or agencies. Please note that MRV Marketing, LLC does not control and cannot guarantee the accuracy of these outside materials.