Check in here to see the MRV commentary on what we have seen and are seeing in the dairy market.  These insights have developed from MRV's proprietary data, industry experience, and industry reports referenced below. Here's our latest:
Domestic
Last week's sales report showed the price of butter going down once again (WoW), as well as all other commodities. The sales of most commodities are flat with little to no change, the exception is NFDM, which doubled in sales volume versus same period last month. Butter prices are down -14% versus same period last year (January 2022). However, butter's price is still significantly higher than it was at the end of 2021. Overall, this will result in a lower cost across the board, especially for higher fat items. MRV forecasts class 1 items to move down for March and April before coming back up in May.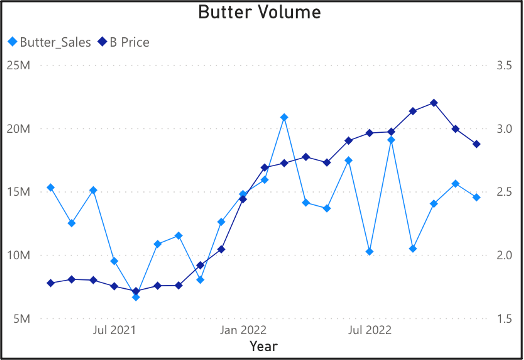 These lower prices are a result of worries from last year. With heavy culling in the second half of 2021 into 2022, buyers anticipated a tightening supply. The purchasing of milk to put into inventories supported the high costs, some record breaking, at the time and through this past fall. Now, we are not seeing an issue with supply but rather the slowing of milk purchases. Buyers have been less and less aggressive on the spot market, slowing futures prices. With no concern of supply and a strong milk production, this could mean culling may happen sooner this year.
Exports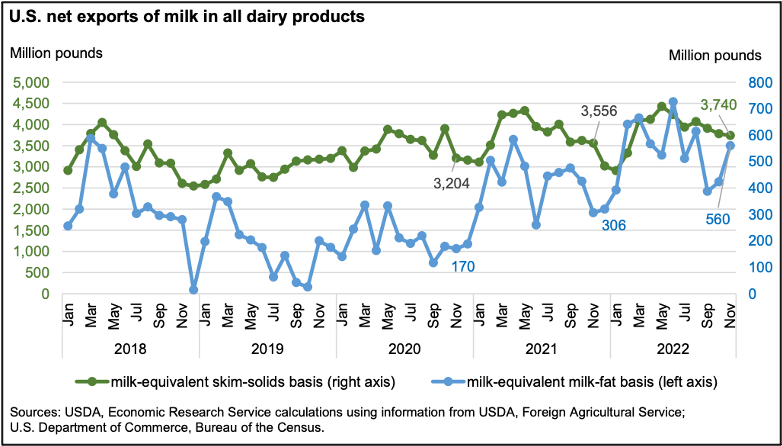 The exports for the US have been exponentially growing month after month and now, year over year. With 2022's exports beating 2021's record by 5.6%, putting the United States toward the top of the food chain for dairy exports. Cheese exports were a highlight again, climbing 15.3% over last year (2021).
Summary
Overall, the exports are strong and continue to grow. The price differentials show the US having the lowest prices which support this growth. With the price of commodities currently shrinking and dairy buyers slow, MRV forecasts most dairy items to move down with the market over the next couple months. Because of the slowing of purchasing on the spot market, due to confidence in supply, we anticipate culling to begin a little earlier this year.
This information cited by MRV Marketing, LLC is for informational and reference purposes only. It is not intended to be a conclusive statement of future market conditions. It is not legal advice or legal documents. The data used in these documents contains references to information created and maintained by other organizations or agencies. Please note that MRV Marketing, LLC does not control and cannot guarantee the accuracy of these outside materials.