Check-in here to see the MRV commentary on what we have seen and are seeing in the dairy market.  These insights have been developed from MRV's proprietary data, industry experience, and industry reports referenced below. Here's our latest:
Domestic
The Domestic market is bouncing its way back up. Butter and cheese are showing significant increases MoM. Butter had an increase of about 18 cents versus last month and its volume nearly doubled. While block and barrel cheese are up 28 and 16 cents respectively. Inversely, dry whey and NDM have declined, albeit marginally.
Heat and Production
Milk production is slowing due to seasonality and an increase in culling, however, we are still seeing some commodity production on the upswing. Dry whey production for human use is up 2.7% versus June of last year and although butter production has declined (seasonally) from May to June, it is still 2.3% higher than last year's number. This is partially due to the increase in cream production which has allowed for production increases in Class II without hindering the butter churns. Cheesemakers also kept their vats full in June with an increase of 0.4% versus the same period last year. Due to slower demand and inexpensive milk, cheesemakers also put more cheese into aging programs.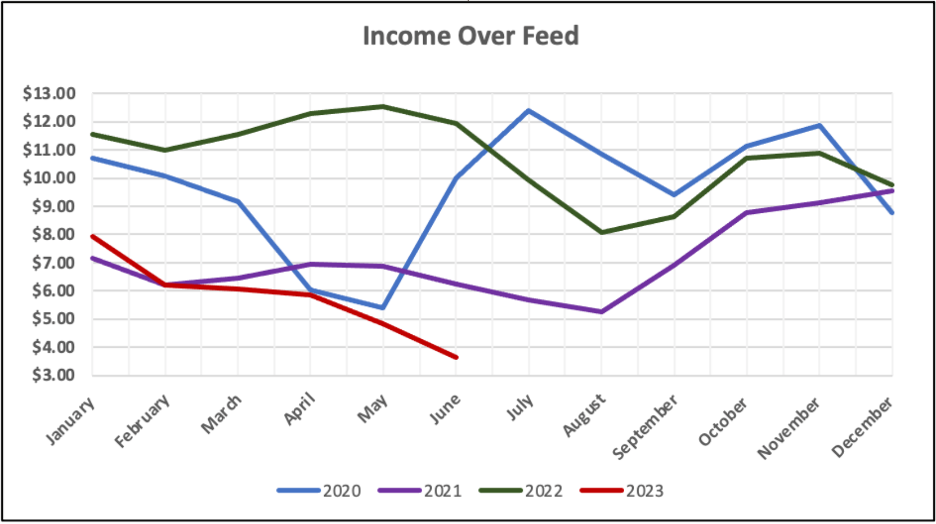 (Graph from Dairy Herd Management)
Cows do not fare well in higher temperatures or humidity, resulting in a decline in production within one or two days of exposure. July's overwhelming heat has brought itself to the US' key southern dairy areas, the Southwest and California's Central Valley. With temperatures remaining elevated even into the night, the longer this heat wave persists the further the components and volumes will decline. Western US boasts more than 50% of the nation's butter production, reduced milk in this region will impact butter churns' output.
Margins
There was a new record low in June for the milk margin over feed costs. Calculated by USDA as part of the DMC (Dairy Margin Coverage) program, the last time margins would have been this low was back in 2012. The main driver for this shrinking margin were falling milk prices. Feed prices that are considered in the calculation are soybean meal, premium alfalfa, and corn. All of these were down compared to last month, but those depressed numbers were still historically expensive.
As mentioned in other MRV Market Commentaries, risk management programs like the DMC program and Dairy Revenue Protection have played a significant role in supplementing producers' incomes. These risk management programs have most likely supported the contraction in milk supplies. However, the increased culling and herd sell-outs tells us that even these programs have not compensated for the tight margins producer have been facing for months. This difficult time will result in many small to medium farms going out of business.
Exports
Year-to-date (through June) US export volume and value have decreased by 5% and 10% respectively. On a milk solids equivalent basis, the total volume of exports in June trailed last year's levels by 13% while its value, which was hindered by lower prices, dropped 28%. The two driving factors of declining exports are continued weak purchases from China and low EU prices undercutting US cheese. On a positive note, from May to June, cheese exports have rebound as Mexico's demand surged; this also helped steady NDM and SMP exports.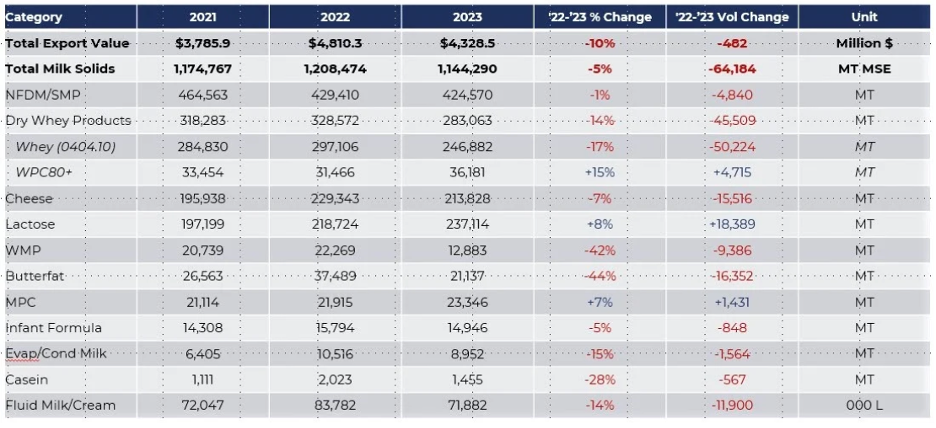 (Graph from USDEC)
Summary
Prices are moving up due to seasonality and increased culling. Production has slowed most significantly in the west due to the heat wave with high temperatures into the night. Risk management programs for producers are helping, but not enough to keep some small to medium farms from going under. Exports have shrunk in June due to a weaker market and the EU's low prices. MRV Dairy Solutions projects prices to be increasing over the next few months before settling to start the new year.
Statistical data referenced here gleaned from reports by MRV Proprietary Database, USDA, Daily Dairy Report, USDEC, Dairy Herd Management