Check in here to see the MRV commentary on what we have seen and are seeing in the dairy market.  These insights have developed from MRV's proprietary data, industry experience, and industry reports referenced below. Here's our latest:
Domestic
Domestically we are seeing butter slowly crawl its way back up, albeit significantly lower than the latter half of 2022, almost 7 cents (MoM). MRV forecasts class I items to go down marginally for April, while forecasts 30+ days out (for class 1) appear to be increasing for the foreseeable future, as of March 8th, 2023.
Production
Cheddar production grew in January with an increase of 7.1% year over year. The most growth was seen in the west, with its volume increasing 8.3% versus January 2022. We also saw, within Class IV, butter production continue to rise. Churns increased production 3.8% in January compared to 2022. Production increases were also tallied for other products that use large amounts of cream. Production of NFDM also shared the gravy train of increases showing an increase of 2.8% over last year, and NFDM stocks for manufacturers also saw an increase in January. While we've seen these increases in production, we are also seeing some decreases elsewhere, with inventories of dry whey being 3.8% lower in January than in December 2022. However, these inventories are still 19.5% higher than last year's levels.
Inflation
According to the CPI released by the U.S. Bureau of Labor Statistics, inflation came in at 6.4% for January 2023, which is its lowest reading since October 2021. Food inflation started to slowdown as well (10.1% vs 10.4%). However, compared to this past December, the CPI rose 0.5% overall, which was mostly due to the increase cost of food, gasoline, shelter, and natural gas.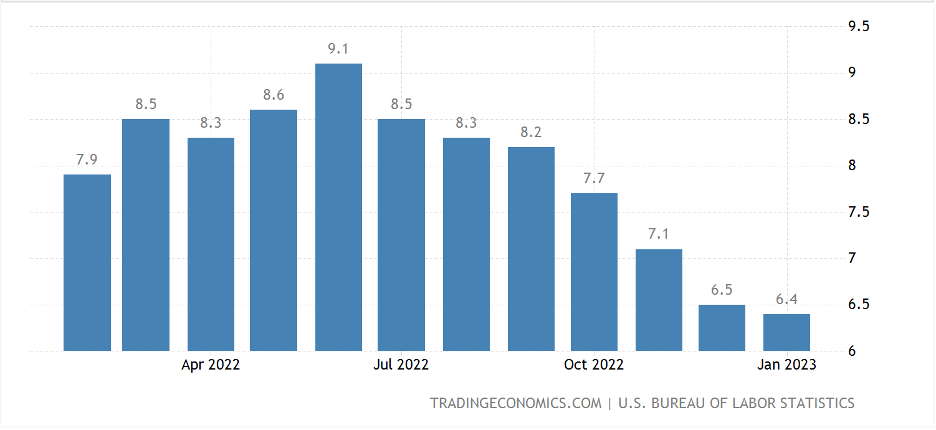 Summary
Overall, production has increased and volume is stable. With increasing demand and some price increases in the second half of this year, MRV forecasts the upcoming month to have a slight decline in cost with slow increases throughout the year, not exceeding last year's record breaking levels. Inflation is slowly coming down from last year's highs. Expect some additional culling too before milk prices rise this summer.
This information cited by MRV Marketing, LLC is for informational and reference purposes only. It is not intended to be a conclusive statement of future market conditions. It is not legal advice or legal documents. The data used in these documents contains references to information created and maintained by other organizations or agencies. Please note that MRV Marketing, LLC does not control and cannot guarantee the accuracy of these outside materials.