We have all heard and experienced many of the pains and challenges associated with running a restaurant. Maybe it's a quick service restaurant, a fine dining establishment, a kiosk, a coffee shop, or other establishment. Labor cost, staff shortages, and inflation have all taken a toll on operations, customer service, and margins.  But perhaps above all that has been the difficulty managing…or being managed…by supply chain issues.
More and more, customers hear that menu items are not available. Often, it's promotional items like a seasonal mint shake that isn't available because the reduced fat vanilla soft serve ice cream or mint flavored syrup didn't arrive. Or maybe worse, it went bad. That can send customers away unhappy and perhaps for good. It also undermines the marketing and promotion effort and expense that won't yield the incremental results and program returns.
Challenges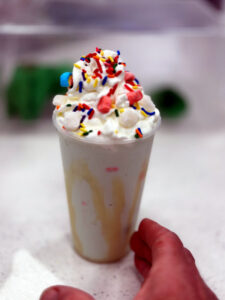 Priorities tend to align under 1) having the right products and 2) managing supply chain quality and safety control. That sounds easier said than done. The reality is that most internal resources that would address these issues have their hands full with multiple categories and even roles in the restaurant, especially with franchises. The initial challenge becomes identifying the problem even exists. Are we getting the right products after all?  Is the pricing in line with what others are paying?  Is it getting to us when we need it? Are our franchises and restaurants getting their dairy products through a distribution process that is temperature controlled and timely?
Then the challenge becomes how to solve those issues. How does one know how much they should be paying for each product of each size? How do you identify the optimum size for your usage? How often you need it delivered in what climate-controlled environment? And if the products are hard to find, how do you know which suppliers can and will even deliver, let alone on time and at what prices?
Solutions
"Managing the supply chain is tough, especially for restaurants and franchisees," says Scott Hoff, Development Manager with MRV Dairy Solutions. "We see franchise owners running to the grocery store on their way to the store to pick up milk by the gallon or whatever size they find. Similarly, we also see franchises struggling with product and price management—identifying the right products, receiving the products when and as needed, and securing it all at the right prices. If we did not have the tools and proprietary data that we've developed here at MRV, I'm not sure others could do it. It takes an awareness of the supplier network and who has what products and where, combined with tracking of FMO for price management and knowing what you should be paying for each product given location, delivery service, and more."
It is hard work getting and retaining customers.  You put in a lot of effort to offer the best menu for your customers. It's important to stay in control of the supply chain. Let's get the right products to your restaurant on time, in the right sizes, and certainly at the right prices.