Check in here to see the MRV Market commentary on what we have seen and are seeing in the dairy market.  These insights have developed from MRV's proprietary data, industry experience, and industry reports referenced below. Here's our latest!
MRV forecasts fluid milk to start declining in July and for the foreseeable future. However, these declines will not negate the high spikes in prices over these last several months.
Overall, commodity prices slowed, week-over-week, with the exception of butter which was firm and rose. Butter is showing a significant increase in both price and volume (WoW). However, the demand for butter is down 3.6% through April 2022 compared to last year's consumption same period and is expected to continue to remain down for May and June as well. Similarly, butter output was also down 2.3% versus 2021's. As for cheese, block and barrel both see a decrease in its price, however, 40# block had a significant increase in volume (WoW).
Milk production also continues to see declines (7th consecutive month) in output as it fell nearly 1% in May 2022 (YoY). While class 3 production jumped, class 4 fell short, resulting in a higher output of whey and a lower output of butter overall.
Overall, Exports are very strong with nearly all exports growing (YoY) with some exceptions, noticeably NFDM. NFDM had a great year last year and 2022's volumes seem to have a hard time keeping up with that, luckily SE Asia is picking up some of the slack.
Gas prices continue to soar and are cutting into Milk. Prices didn't just rise for diesel fuel but across the board from fertilizer to feed, and with inflation running rampant, a recession is looking more and more likely. Inflation is currently at 8.6% and is projected to remain over 8% in the foreseeable future. To see what class 3 and 4 prices did during the Great Recession (2007-2009) see chart below from dairyherd.com.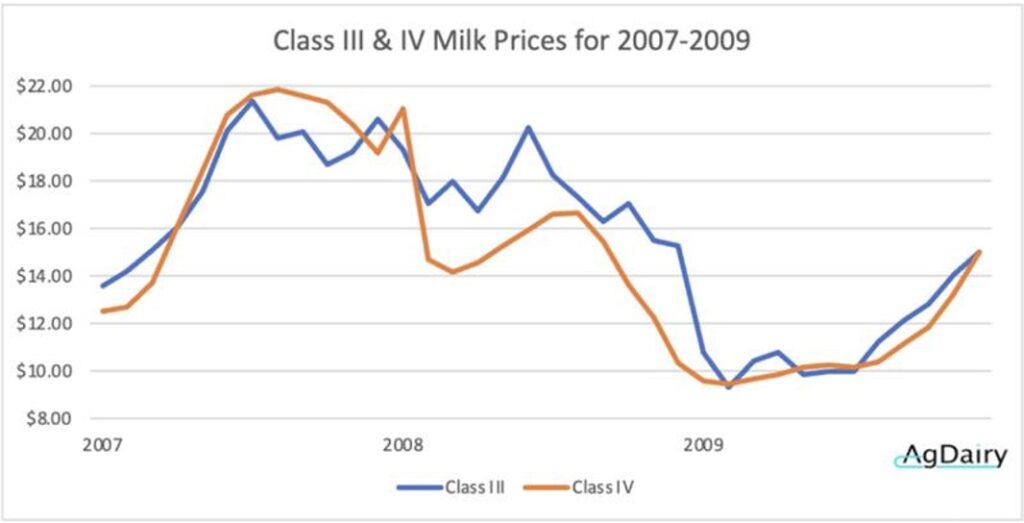 Information here was gleaned from the following sources:
MRV Proprietary Database
This information cited by MRV Marketing, LLC is for informational and reference purposes only. It is not intended to be a conclusive statement of future market conditions. It is not legal advice or legal documents. The data used in these documents contains references to information created and maintained by other organizations or agencies. Please note that MRV Marketing, LLC does not control and cannot guarantee the accuracy of these outside materials.