If you see "Regenerative Organic Certified" and think, "Oh yeah, organic…that's clearly been growing in popularity," you're only halfway there. Some say Regenerative Organic Certified (ROC) foods and products take organic to the next level. In fact, ROC takes it to another level.
In 2012, the ROA (Regenerative Organic Alliance) launched Regenerative Organic Certification (ROC) to build on existing organic rules. Organic certification focuses on what has or has not been done to or affecting the food and its life cycle. The USDA adds, "USDA certified organic foods are grown and processed according to federal guidelines addressing, among many factors, soil quality, animal raising practices, pest and weed control, and use of additives." ROC focuses on three pillars: soil health, animal welfare, and farmer and worker fairness. Sustainability is often associated with organic, and that is certainly important.  Regenerative processes serve to improve a degraded, weakened ecosystem.
Not Simply the Food
The Noble Research Institute defines regenerative ranching as "more than just being sustainable. It is about reversing degradation and building up the soil to make it healthier than its current state. It requires managing a farm or a ranch by considering the interactions among the soil, water, plants, animals and humans — interconnected pieces of one whole system."
The Food and Agriculture Organization (FAO) reported a few years back that a third of the world's soil had already been degraded and at current rates, all of the world's topsoil could be gone within 60 years. Sustainability maintains the current environment. Regenerative serves to restore. Yet it's more than just soil. ROC strives to lessen greenhouse gas emissions, regenerate soil, halt animal abuse, and empower farmers with stable living wages and fair policies. And this should make for comfortable workers supporting less stressed animals generating better tasting and healthier products.
ROC Growth
Although it's only been ten years since ROC was first launched, as of December 20, 2022, there have been 98 farms certified covering more than 315,000 acres yielding more than 150 types of crops. Additionally, 47 brands have been licensed to make ROC product claims and that number is growing monthly, too.
Part of that growth is understanding where and how to obtain ROC products. "ROC is more than just a trend. Whether in retail, food service, or manufacturing,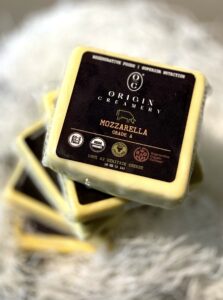 customers are asking for products that go the extra mile yet still taste great," explained Frank Otis, MRV Dairy Solutions Innovation Expert. "Regenerative Organic Certified products fit that nicely. As more and more farms are becoming ROC certified, finding and obtaining ROC products will become easier. But it still takes understanding the landscape and supplier network to help connect the dots. MRV is seeing—and supporting—more of our historical and traditional customers looking into ROC and now needing that same support for what is becoming a critical component to the dairy portfolio."