Check in here to see the MRV commentary on what we have seen and are seeing in the dairy market.  These insights have developed from MRV's proprietary data, industry experience, and industry reports referenced below. Here's our latest:
MRV projects the upcoming month's fluid dairy cost to decrease, as of today. According to USDA, commodities finally have some relief with the butter price per pound decreasing 29.9 cents from the previous week and almost 50 cents from the beginning of December. Cheese also has some relief with a per pound decrease of 1.6 cents and 5.5 cents for 40# and 500# respectively. The other commodities like Dry Whey and NFDM prices only marginally decreased, however, NFDM sales plummeted for week ending 12/31, at over 50% decrease versus the beginning of the month (December).
Comparing this past week's data to the same period last year is astounding. Both price and volume have increased quite significantly across the board. The most shocking is butter, even with its recent significant price decrease revealed this past week, versus last year, its price is still up about 17% (YoY).
Milk Production
November's milk production overall grew 1.4% versus November 2021 due to increase head count and milk per cow, however, the west coast saw some dips in production per cow (YoY). There have also been new innovations in the soybean processing industry with low carbon fuels like renewable diesel, which utilize recaptured oils such as canola oil and soybean oil. This suggests this could result in lower feed costs for farmers in the future.
Inventories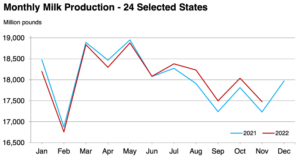 With no surprise, dairy inventories dipped due to seasonality, but it's not moving as they usually do indicating an even slower demand. Historically, as the demand during the Holidays is met and buying slows, prices decline. According to USDA's Cold Storage Report for November, butter stocks were down 5% from November of last year and down  17% from last month.
Exports
Dairy exports for the US continue to grow, with a 9% growth in November putting the year-to-date exports up 4%. The consistent growth of cheese and whey products continues to keep the US' volumes on a positive trajectory in November. November made the 17th straight month of growth for US cheese. Every month since February 2022 has yielded a new record for cheese, comparing to their respective months the prior year.
USDEC Report
We are expecting lower prices this upcoming month as commodity values sink before climbing once again.  Feed costs for farmers are expected to decrease due to new innovations in feed. Production in the Midwest has grown quite significantly overweighing the decrease in Western production. US exports have grown due to the reliable growth of cheese, cheese had its 17th month growth streak in November '22.
This information cited by MRV Marketing, LLC is for informational and reference purposes only. It is not intended to be a conclusive statement of future market conditions. It is not legal advice or legal documents. The data used in these documents contains references to information created and maintained by other organizations or agencies. Please note that MRV Marketing, LLC does not control and cannot guarantee the accuracy of these outside materials.