Check in here to see the MRV commentary on what we have seen and are seeing in the dairy market.  These insights have developed from MRV's proprietary data, industry experience, and industry reports referenced below. Here's our latest!
Domestically, MRV sees the price of fluid milk items increasing for next month. Much of this is due to a shortage of cream, increasing the cost of butter. While the butter price decreased week over week, it increased 3.47% vs the same period last month. It was even higher if comparing last week's to the previous month. Spot butter price on CME hit an all-time high last month and is still holding firm. Along with butter, we see a large increase in both block and barrel cheese (MoM) due to low Cheddar output. Production of Cheddar fell 2% from last year's levels. This low output of Cheddar is the result of cheesemakers' focus on other cheeses that can enter the export market more easily.
While per capita consumption of dairy overall is up, fluid dairy still continues its downward trend. Fortunately for cheese and butter, over the last decade, consumption of those items is up 16% and 20% respectively.
Class III and IV
Currently, Class IV has trended over Class III ($/cwt), however, based on current futures prices, the spread of Class III and IV milk price gap will begin to shrink this
month. if this stays true, this will continue to incentivize the de-pooling from Class IV.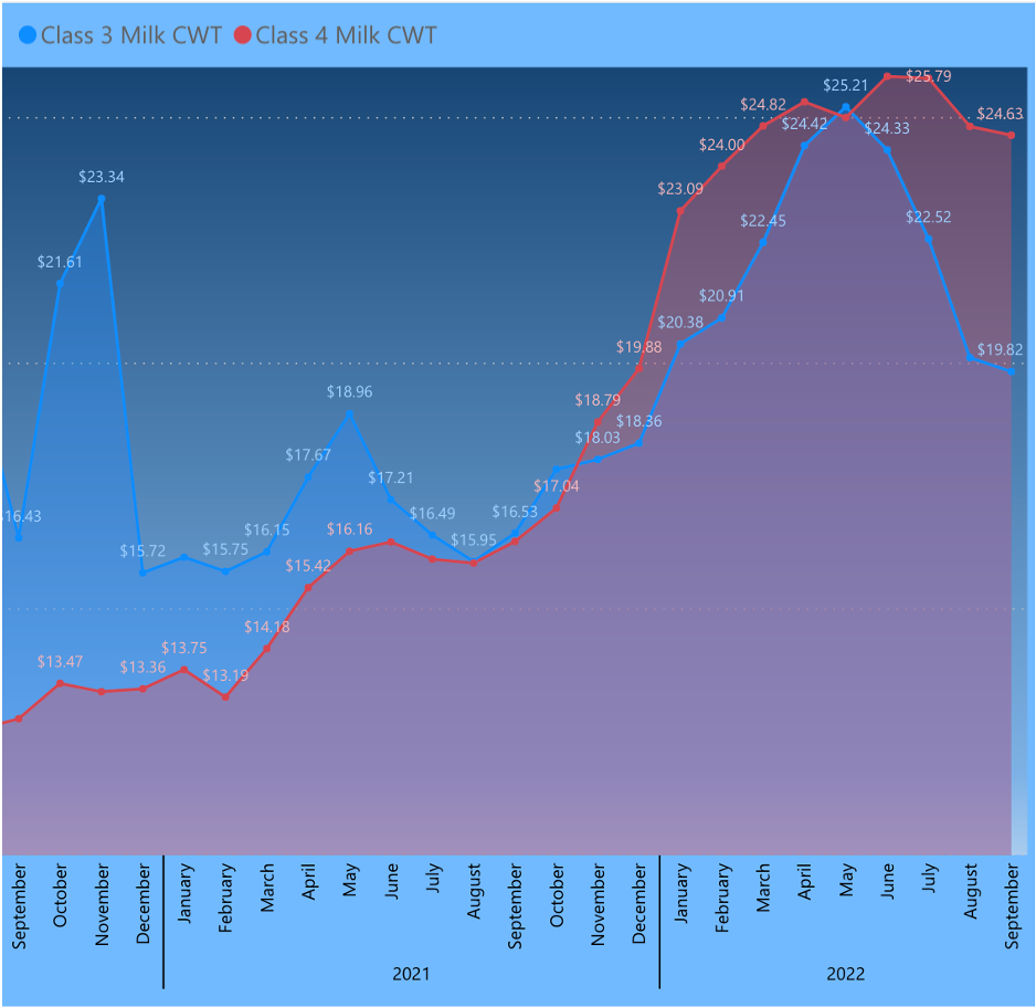 Class Utilization of Producer Milk​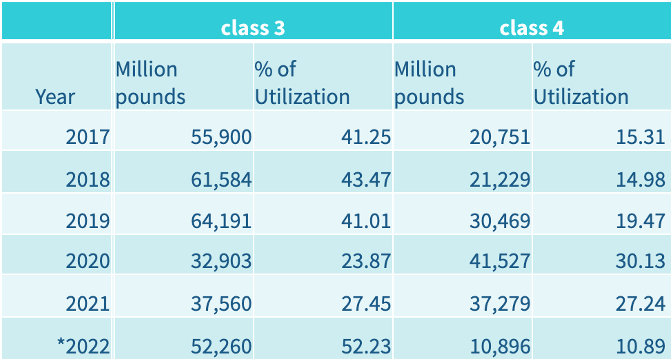 Dairy farmers continue to find themselves in a challenging situation with production cost increases. Many of these factors include higher freight, water scarcity, pharmaceuticals, even down to materials like milking gloves. Some of the bigger challenges continue to be the rise in feed costs and labor. Some sources have stated that wages on the farm have increased by 40%. These and many more factors continue to feed the high cost of production for dairy farmers.
Some find themselves in other struggles such as natural disasters. The category 4 Atlantic hurricane, Hurricane Ian, struck Dakin Dairy in Myakka City, FL heavily. More than 250 of the 4,000 cow dairy were lost. Unfortunately, this number may rise since many cows have developed respiratory issues due to exposure from the intense weather conditions.
Dairy exports in the US have been climbing this year, and August was no exception, even moving its way into position for setting new records in 2022 for both volume and value. With value of exports being up 26% over 2021's.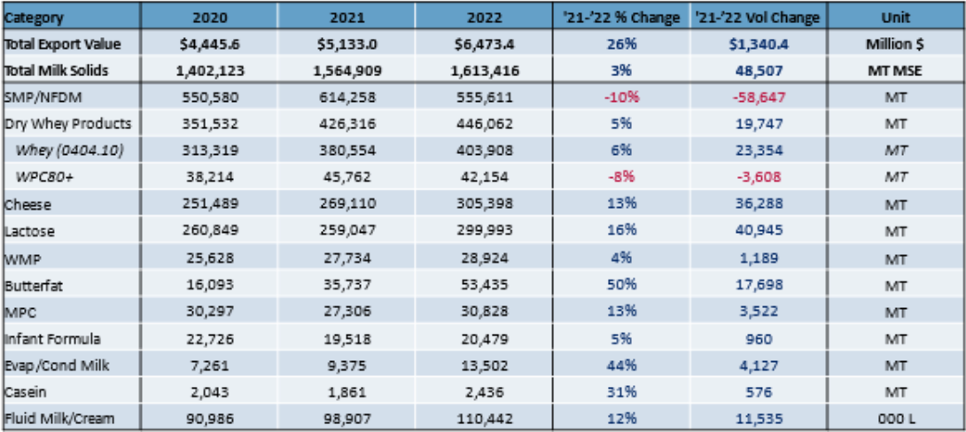 This information cited by MRV Marketing, LLC is for informational and reference purposes only. It is not intended to be a conclusive statement of future market conditions. It is not legal advice or legal documents. The data used in these documents contains references to information created and maintained by other organizations or agencies. Please note that MRV Marketing, LLC does not control and cannot guarantee the accuracy of these outside materials.